In the harsh environments of urban and industrial sewer systems, sensor and remote control technology is often difficult to use. Usually there is neither power supply nor communication infrastructure. The effort involved in cabling is very high for larger systems and sometimes difficult or impossible to implement.
Humidity and dirt are further challenges posed by the environmental conditions. In addition, dangerous gases are produced by natural chemical processes in the sewer. Therefore, ATEX requirements are mandatory for the safe use of electronic equipment.
In order to optimise time-consuming maintenance of installations, several criteria must be fulfilled:
Intrinsic safety of the units with corresponding ATEX certificate
Robust devices for use in industrial conditions
Battery supply for sensors and transmission unit
Long running times to keep maintenance intervals as long as possible
Unit concepts with well thought-out service and maintenance concept
High quality of service of the data saves time-consuming post-processing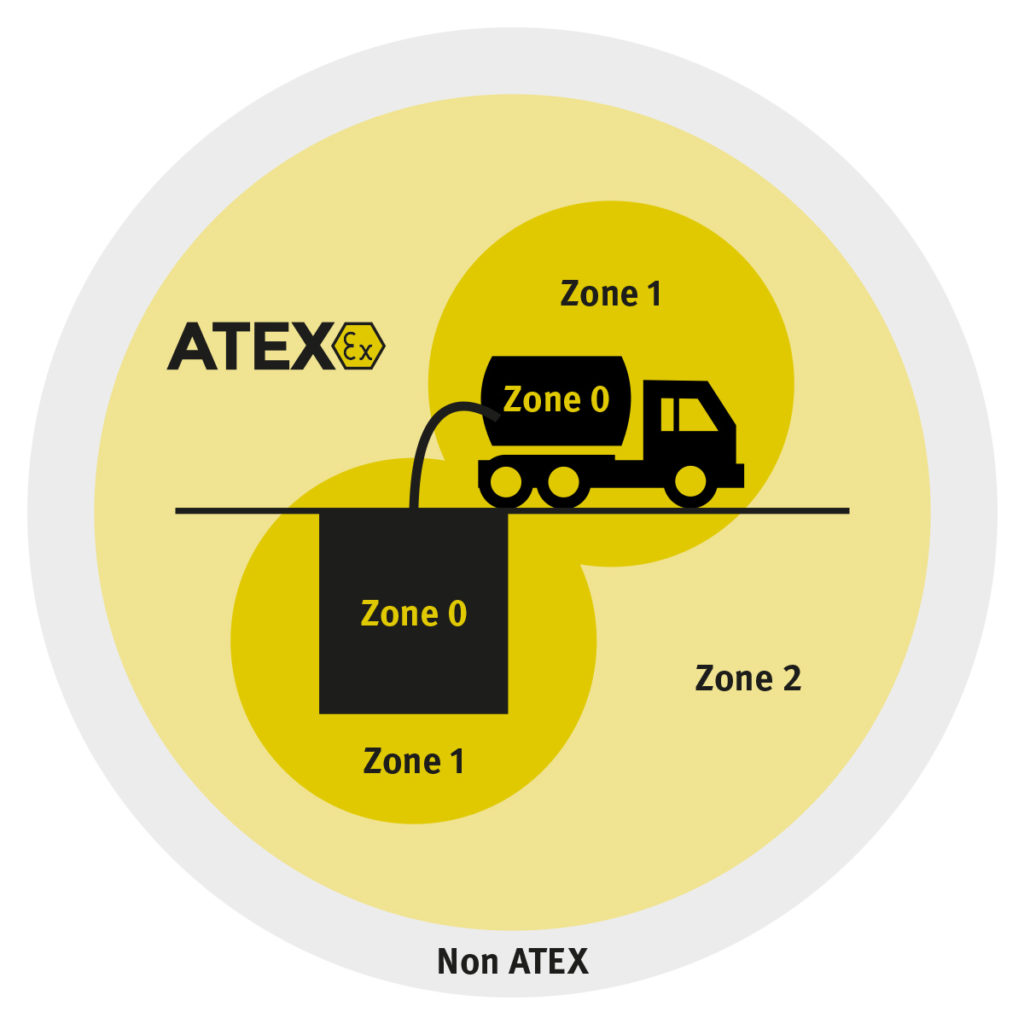 Consideration of the criteria enables the simple and safe use of industrial sensors where you need them, coupled with the best possible price-performance ratio. Over 15 years of equipment experience in difficult conditions, with ATEX requirements as well as service and maintenance contracts have been incorporated into the latest generation of equipment from Microtronics. We offer the latest equipment for urban and industrial environmental services with ATEX certification.
From a functional point of view, a fully integrated solution involves considerably less effort and is more efficient in operation in the long term. Compared to classic PLC and telecontrol technology, the Microtronics solution is characterised by very low energy consumption. It is therefore ideal for battery or photovoltaic-powered stations.
Furthermore, remote configuration and remote software updates are standard. A feature that customers like to use every day to optimise settings remotely after commissioning. In addition, the solution can be specially adapted to application-specific requirements.
Programmable devices are ideally adaptable to the application
Application specialists and integration partners can conveniently adapt the requirements via an online studio and distribute them to the field without interrupting operations. In this way, we create the basis for an efficient infrastructure and for the optimised use of products in the situation.
The Microtronics mission includes making customers successful with state-of-the-art products and ensuring efficient, sustainable operation of the solutions. Together, we are making a contribution to achieving the global sustainability goals.
The areas of application of the technology
The areas of application for Microtronics' technology are wide-ranging. Realise solutions in a wide range of environments – from classic outdoor use in extreme environments such as duct shafts with ATEX-certified applications to mounting in the control cabinet in industrial environments.
Requirements for industrial and municipal applications
Efficient and secure data transmission
Ensuring data integrity
Record and evaluate historical data / reporting
Monitoring / Event triggering / Alarming
Remote control, open and closed loop control
Device management and operation monitoring
Intelligent hardware basis
The Microtronics hardware devices are designed as a robust infrastructure and meet industrial requirements. The combined, fully integrated measurement data acquisition and data processing, programmable control and wireless transmission features the following designs:
Integrated sensor technology or industrial standard interfaces
Integrated sensor supply
Variable supply options – rechargeable battery, battery, photovoltaic or backup versions
Measurement data processing with sensor supply
Data logger function
Event, regulation and control function
Transmission unit with integrated mobile radio uplink and further communication interfaces
Simple commissioning and automated configuration exchange with central device management
Web-based application, device, user and alarm management
Easily configurable, user-based reports and dashboards
Open, programmable platform with rapidM2M Studio for adapting or developing your own application
Extensive interfaces for integration into further systems with REST API and OPC-UA
Overview of available configurations according to ATEX zones
Hardware for sensors in ATEX Zone 0 environment
myDatalogEASY IoT ATEX devices can be mounted in zone 2. With the integrated barriers, sensors are operated up to zone 0. The barrier configuration can be selected when ordering.
Hardware for Senors in ATEX Zone 1 – Field Use
The myDatasens devices with gas sensors (H2S, H2O2, NH3) are suitable for operation in zone 1. Optionally, a wireless mA output is available for local sensor value output.
In addition to data recording, the myDatalogEx brings in a sensor supply of 4-20mA sensors for operation in zone 1. A wireless pressure sensor is optionally available.
Hardware for sensors in ATEX Zone 2 – monitoring and telecontrol in field use
The myDatalogEASY IoT ATEX is a freely programmable device for measurement and control tasks in zone 2.
Hardware for monitoring and telecontrol in the field:
The myDatalogEASY IoT series without ATEX certification is perfect for smart outdoor applications. The housing offers plenty of space for extensions. Operation is possible outside the ATEX zone.
Hardware for monitoring and telecontrol in the control cabinet:
The rapidM2M C3 is designed for top-hat rail mounting (DIN rails). It offers flexible extensions for operation outside ATEX zones.
You can flexibly adapt the hardware to your needs with the respective configurators.
Simple operation and clear operating status
For quality support, it is essential to know what is going on in the field. On the one hand, the operation and the comfortable configuration via web login are a possibility to access settings at any time, on the other hand, this also enables efficient support by experts.
Using templates or presets, the commissioning process can be optimised in order to plan a fast and efficient deployment on site. This not only saves time, but also enables an efficient use of resources. This means that even larger fleets of units can be managed conveniently.
Data evaluations are generated or preconfigured data downloads are set via the web login. Furthermore, reporting with automated e-mailing can be set up very quickly. to regularly document or assess changes. For this purpose, different teams can set up customised serial or parallel alarm call chains via a comprehensive alarm management system.
With integrated device management, you can keep a permanent eye on the entire fleet via real-time monitoring, the so-called "Health Dashboard". Calibrations, communication failures, power failure alarms or sensor errors can be recorded with it. This allows a quick error analysis and thus an immediate reaction to prevent downtimes or major damage, or to avoid them altogether.
Integration in web services, control centre or SCADA systems
For larger installations or infrastructure projects, a modern web interface via REST API can be used or optionally an OPC UA interface for exchanging data with central systems. This allows the user data integration to be forwarded quickly and easily to inventory systems.
For ambitious project and system integration partners, customised visualisations, data analyses or control and regulation programmes can also be created. Für anspruchsvolle Projekt- und Systemintegrationspartner können auch kundenspezifische Visualisierungen, Datenanalysen oder Steuerungs- und Regelungsprogramme erstellt werden. This creates the ideal working environment for integration experts and development projects. The rapidM2M Studio is available online and offers a variety of libraries and functions to support the customisation process as much as possible. This underlines the openness of the system environment to support the optimal outcomes of individual needs.