H2S occurs in industrial and urban wastewater networks. A reaction can occur due to the biological process on the transport path of the wastewater into the wastewater treatment plant. The characteristic smell of rotten eggs develops.
Typical problem areas in the sewage network
Above the water level in the sewage pipe
After waste water pressure lines
Changing steam or waste water turbulence
Lifting pipe, sewer jumper, siphon
Through start-stop pump cycles
In case of sewer overload
In the sand trap
If the slope is too steep
At the sewage treatment plant
How it works in practice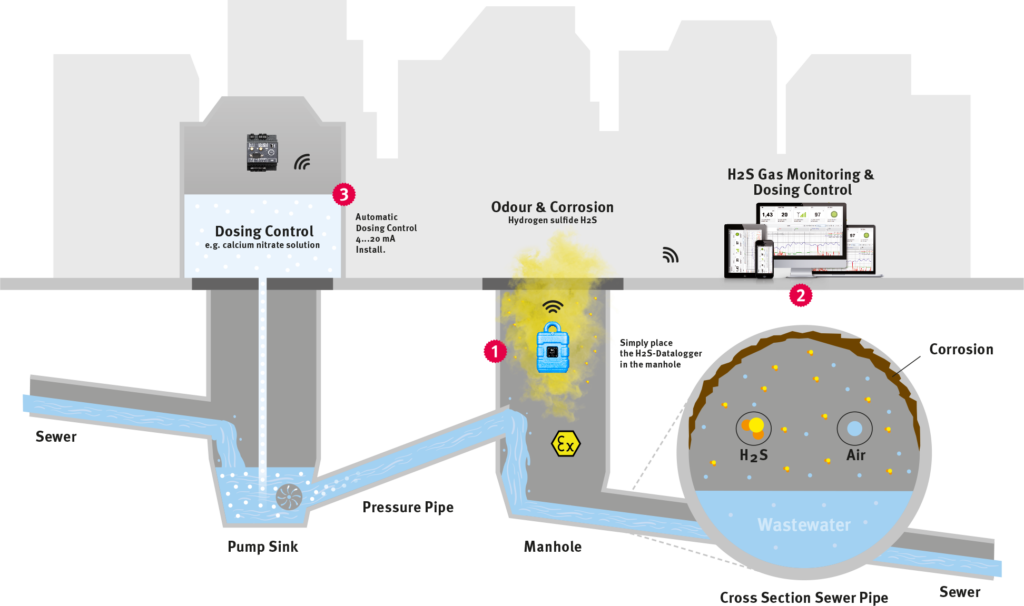 Monitoring of H2S concentration in the sewer with ATEX certified equipment.
Configuration of the unit in the sewer remotely via the IoT platform. The data recorded in the sewer are transmitted to the platform at regular intervals via mobile radio and are available there for reports. Alarming and triggering of actions when a defined value is exceeded.
Automatic dosing control with the rapidM2M C3 for preventive dosing of appropriate chemicals to reduce H2S in the sewer.
Advantages of a modern H2S monitoring solution
A modern monitoring solution helps to quickly and efficiently identify problem areas and creates transparency about the condition. This shows how critical the situation actually is. Action steps can be derived and public danger zones can be cordoned off. Immediate dosing of reagents in the pump sump area to reduce the H2S concentration and monitoring the effectiveness of the measures with reporting as evidence provide a remedy.
Detection of critical situations via permanent monitoring of the gas concentration
Automated data preparation and e-mail reporting
Alerting in case of unexpected increase in concentration
Innovative sensor exchange concept for maximum efficiency in the calibration process
Reduction of gas concentration via remote dosing control to minimise corrosion
Optimised treatment of the reactant to save costs and the environment
Automated operating materials logistics via consumption monitoring with fill level alarming
Reduction of trips to a minimum thanks to maintenance concept adapted to calibration cycles
Efficient staff deployment through simplified management via remote login
Equipped for everything with dosing control
The H2S monitoring solution can additionally be combined with a dosing control. Thus, either event-based, i.e. as soon as odour formation occurs, or preventive chemicals can be released to reduce the H2S concentration. In addition, continuous operation and automated logistics with low personnel costs can be ensured by measuring the level of the reaction medium.
Special features of Microtronics technology
The myDatasens devices have been perfectly adapted to the challenging application needs. This results in a highly optimised TCO (Total Cost of Ownership) for the operator. This makes it the most efficient H2S monitoring solution available on the market today.
Comparison of Microtronic's solution with that of its market competitors:
Microtronics
Market companion
Assembly time
<5 minutes, no entry necessary
10-30 minutes, partial screwing
Sensor replacement time
<1 minute, no entry necessary
10-20 minutes or unit exchange
Travel frequency
Max. 2x per year, calibration
Several times per year, calibration, battery replacement
Battery life time
10 years
8 months
ATEX
Certified for zone 1
Not certified
Measurement data storage capacity with 1 minute data grid
180 days
29 days
Measurement data storage capacity with 5 minute data grid
24 months
6 months
Data points
261.800
42.000
Data readout
– Remotely available on the server via mobile radio
– Locally via Bluetooth and app
– Locally via wireless USB stick
Cable
Cloud storage
Yes
Optional
Full Color Display
Yes
No
Maintenance interval and service interval display
Yes
No
The H2S measuring devices are adapted to the needs of the customers. Thanks to the maintenance concept, resources and costs are saved. Continuous data collection helps to detect damage at an early stage, avoid failures and optimise processes.
Conclusion
With the H2S monitoring including dosing control from Microtronics, you have the hydrogen sulphide concentration in the ambient air at a glance. Now it is possible for you to initiate effective measures in a targeted manner.
Microtronics partner HeGo Biotec demonstrates how the odour nuisance was stopped using the example of Berlin-Köpenick. Thanks to continuous H2S measurement, the corresponding chemicals can now be dosed as needed.