Device positioning? What does that mean and what do I need it for? Once this question has been answered, many people continue to ask themselves…
Where was my device installed? Where is the device I am currently working on in my central device management platform? Which devices could I service on my next tour?
The Microtronics IoT Platform offers helpful features that make it easy to add location information and help users easily locate their devices.
How do I get position data into the system?
Basically, there are two different ways to get position data into the system. Either manually via the graphical user interface or via an API. Both ways have their advantages and disadvantages, which will be discussed below.
The graphical user interface
The interface can be used by the user to store the device position in the system with the help of an interactive map. For this purpose, either the position can be defined by moving a position pin on the map or by entering GPS coordinates. The use of the graphical user interface is intuitive and requires no additional implementation effort in your own IoT app. However, the position must be deposited manually.
If there are only a few units, or if you know exactly where the unit was installed in the office, this is easy. If the aforementioned conditions are not met, manual positioning becomes rather difficult to carry out.
Position data via API
Each device is mapped in the system via a "digital twin". This can be addressed via the API and the position can be stored.
How is the position data collected in this case?
This is where the possibilities around the IoT app come into play!
IoT apps offer the possibility of an application-specific interface within the app. Smartphones have very good positioning "on board". This position can now be used in the IoT app to inherit the position of the smartphone to the digital twin. And that's how quickly you have an exact position of the device in the platform. Embedded in a commissioning process via IoT app a simple and quick way to store the position in the platform.
How can I use the position data?
In the dynamic map view, the units can be displayed on a map. The user thus quickly gets an overview of where his devices are and in what condition the respective device is.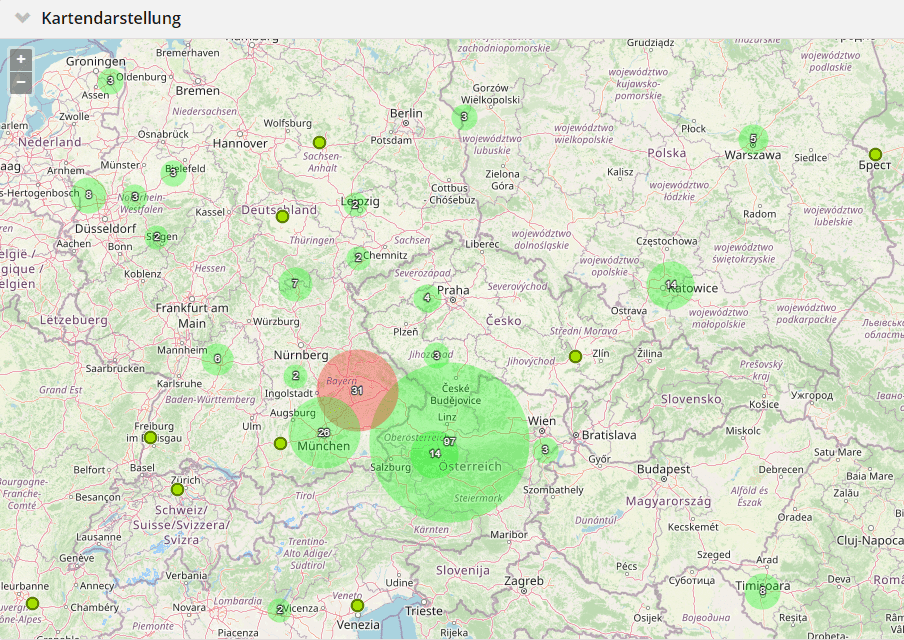 If there are several measuring points in one area, they are clearly summarised. The number as well as the most critical state of the combined devices are shown in the map. As you zoom in, the grouping is broken down further and further until you are on the desired device. From here you can go directly to the corresponding device.