Although the weather has been jumped the gun, it is now officially summer since yesterday. According to a tradition the employees and neighbours of Microtronics celebrated this with the inflammation of a so-called solstice fire. Of course the traditional "Sonnwendhansel" (a doll made of straw, which is put on the fire to frighten away evil demons and diseases) was not missing. Together with the old Microtronics logo, the "Sonnwendhansel" was burnt as a sign of change, whereas the new Microtronics logo was officially introduced.
The Microtronics employees – More than colleagues
Events such as the joint solstice fire are a perfect place for spending time together in a relaxed atmosphere. It is important to improve the private relationships between the employees. From time to time therefore current projects are put in the background and talking about private topics in order to strengthen personal relationships are emphasised.
Every employee shows his passion by such events. Be it the delicious cakes, the home-brewed beer or the grilled pulled pork burgers. Instead of sleeping, Development Manager Martin Buber got up in the middle of the night (one o'clock in the morning) to fire up the barbecue grill for preparing the pulled pork for our team. Over 16 hours pig shoulders were brought to the optimal cooking point at highest grill level. Of course our vegetarians and vegans team member were not forgotten.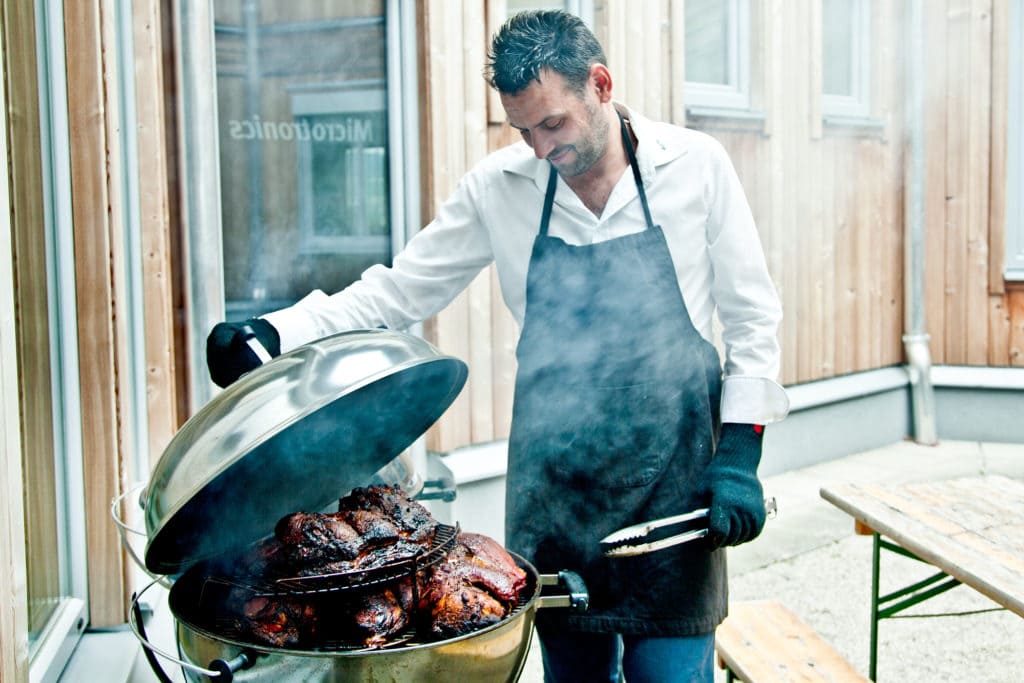 Gerhard Obernberger, who is not only an excellent programmer, provided us with tasteful self-brewed beer from his own private brewery.
However we were not only culinary supplied at the best way. Our brass-band music duo, consisting of Product Manager Peter Dollfuss and head of customer relations Bernhard Maier, entertained us with a musical performance.
Safety is not only the top priority for our products, but also at solstice fire. Our firemen Production & Service Assistant Marcel Kurta and Development Engineer Jakob Steiner provided that they are not only good in terms of fighting fire, but also in layering outstanding stakes and burn them professionally.
Microtronics – Working and fun
A relaxed working environment is the key to a well-functioning corporate culture. This is why Microtronics attaches great importance to ensuring that employees feel comfortable at their working place. On the one hand this is ensured by autonomous working methods and freedom of action, on the other hand by the possibility of constant further development. At Microtronics employees benefit from each other and synergies are utilized. This is the only way to ensure the company's success in the long term.
Become part of the Microtronics team
The Microtronics team is growing. We are looking for Test Engineer, Data Scientist, Web Developer and other bright heads. Microtronics guarantees its employees a diversified workplace with the opportunity to realize and to develop themselves continuously. As a team, we always grow in the handling of challenges and innovative requirements of our customers, which motivate us to achieve the highest performance. At Microtronics, the employees always learn from each other – because one thing is certain: there is always something new to learn.
I want to be part of the team