In the LoRaKey research project the Institute for IT Security Research at St. Pölten University of Applied Sciences under the project management of Dipl.-Ing. Dr. Henri Ruotsalainen and Microtronics Engineering GmbH are jointly researching new approaches to mastering the challenges in LoRaWAN networks with regard to secure key exchange. The project is scheduled to run for two years (1.9.2017 – 31.8.2019). After one year, there are first results and an interim conclusion is drawn.
The transmission of cryptographic keys is a basic operation to establish a secure communication channel or secure data storage. In IP networks (Internet) the keys are determined by using cryptographic protocols such as TLS (Transport Layer Security) and public key infrastructure. However, the integration of existing protocols into future low-power wide area networks, which play an important role for IoT/M2M, will be challenging. In contrast to PCs, embedded IoT terminals have limited computing power and power capacity.

In a realistic scenario, for example, the secure transmission of sensor data should take place with only one battery charge over several years. Therefore, there is a need for new methods for key exchange, that

Conserve resources
Operate efficiently in dense wireless networks (> 100 terminal per base station) and
•Provide protection against (future) attacks.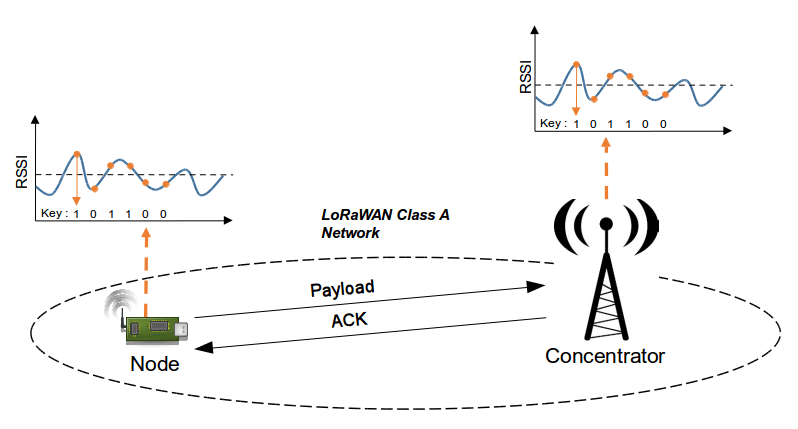 As part of the LoRaKey research project, the Institute for IT Security Research at St. Pölten University of Applied Sciences and Microtronics Engineering GmbH are jointly targeting new approaches to mastering the three challenges in the LoRaWAN networks mentioned above. In contrast to conventional computational methods, LoRaKey focuses on the question of how the randomness of wireless LoRaWAN channel can be used as a basis for key exchange.

During the first part of the project, the project team was already able to determine that it is possible to generate the crypto keys from the measured LoRa channel projects. It is remarkable that this type of key generation can provide perfect security and therefore shows robustness even against quantum computer attacks.

Later, research focused on advanced key generation technique that works effectively in Class-A LoRaWAN networks. With the help of a testbed the influencing factors of LoRaWAN protocol, 868 Mhz ISM band interference and packet collision could be assigned. Subsequently, a framework for robust key generation was built on the basis of this information. The crucial components in this case are electrically controllable antennas, which enable a significantly higher key generation rate.

On the basis of the evaluation results, the LoRa signalling enables key generation over several kilometres. According to the current state of knowledge of the project team, this is the longest measured range for wireless key generation. In addition, the controllable antennas provide regular key refreshment for the end device. It is therefore to be expected that the research results will enable better communication security for numerous LoRaWAN applications.
Press contact

About the University of Applied Sciences St. Pölten
The University of Applied Sciences St. Pölten is a provider of practice-oriented and performance-oriented university education in the six subject areas Media & Economy, Media & Digital Technologies, Computer Science & Security, Railway Technology & Mobility, Health and Social Affairs. In 22 courses of studies more than 3,000 students are trained. Beside the teachings the University of Applied Sciences St. Pölten dedicates itself intensively to research. The scientific work is carried out on the above-mentioned topics as well as on an inter-institutional and interdisciplinary basis. The courses of studies are in constant exchange with the institutes, which continuously develop and implement practical and application-oriented research projects.

About Microtronics Engineering GmbH
Microtronics Engineering GmbH provides complete solutions for secure, efficient and stable IoT, M2M and Industry 4.0 projects. The solutions include hardware, software and service at an internationally standardised services rate from one single source. Microtronics solutions are already in use in over 60 countries worldwide. Customers benefit from fast implementation of their idea in the first proof of concept in just a few weeks and support throughout the entire process, including industrialization and worldwide rollout.

Information and queries:
Dipl.-Ing. Dr. Henri Ruotsalainen
Institute of IT Security Research
E: henri.ruotsalainen@fhstp.ac.at
I: https://www.fhstp.ac.at/de/uber-uns/mitarbeiter-innen-a-z/ruotsalainen-henri

Press contact:
Ing. Sabrina Waldbauer MSc
Marketing Manager Microtronics Engineering GmbH
T:+43/2756/77180-27
E: sabrina.waldbauer@microtronics.com
I: https://www.microtronics.com