At the "Festival of Apprentices" on January in the St. Pölten Festspielhaus, all apprentices who passed their training between 1 December 2017 and 30 November 2019 with distinction were honoured. Only 12% of the apprentices in Lower Austria were able to present such an excellent result.
One of them is Microtronics employee Bernhard Kadla. After completing an apprenticeship as mechanic, he subsequently completed an apprenticeship as mechatronics engineer at Microtronics with excellent results.
"Apprenticeship has a future. An apprenticeship is an incredibly good basis for a career," said Governor of Lower Austria Johanna Mikl-Leitner in an interview with moderator Alex Kristan and congratulated the apprentices on their great achievements.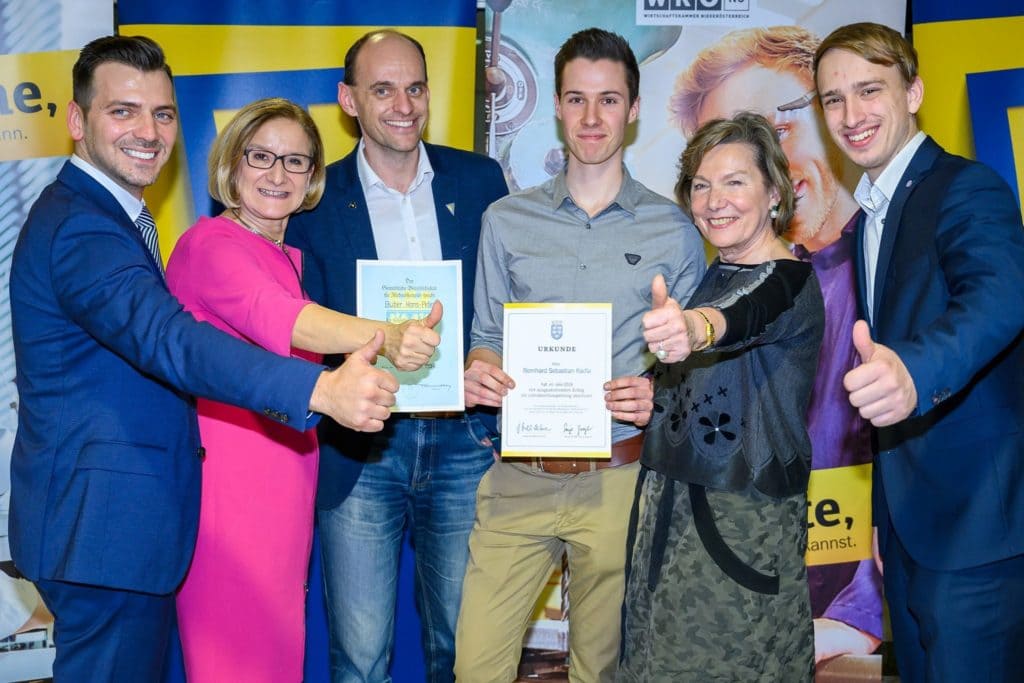 Governor Johanna Mikl-Leitner with Microtronics CEO Hans-Peter Buber, award-winning apprentice Bernhard Kadla and Lower Austrian Chamber of Commerce President Sonja Zwazl © Andreas Kraus
The boss shows the way
Microtronics CEO Hans-Peter Buber is the best example of this. He completed his apprenticeship as radio and television mechanic in 1995 with excellent results. In 2006 he founded Microtronics Engineering GmbH. By 2019, Microtronics has grown to 55 employees and achieved a turnover of 6.5 million. As if that were not enough, Microtronics is one of the few companies worldwide that not only generate sales in the innovative, dynamic environment of the Internet of Things, but also operate sustainably and make profits.
"It fills me with joy that, after my own apprenticeship, I can now give young, ambitious people the opportunity to lay the foundation for their own successful career with an apprenticeship at Microtronics and to pass on my knowledge," Microtronics CEO Hans-Peter is proud of this employee. "Since 2019 we also offering an apprenticeship for application developers and coding for the first time".
"During my mechatronics apprenticeship I was particularly interested in CAD design. After my successful final apprenticeship examination, I have been given the opportunity at Microtronics to put my professional focus entirely on this area and to continue my education accordingly," says Bernhard Kadla happily about the development and further education opportunities within Microtronics Engineering GmbH, which are adapted to individual strengths.
Career at Microtronics
Applications for the apprenticeship application developer and coding, as well as applications for the vacant positions as project manager, marketing assistant, developer (cloud, firmware, system programmer) are welcome. All details of the vacant positions can be found at Jobs – Microtronics