In industrial firms in which flammable substances are used or in environments in which combustible gases are produced due to natural or chemical reactions, special safety precautions are required when using electronic devices.
For example, combustible gases can occur in chemical factories, paint factories, when solvents are used, in the vicinity of fuel storage tanks, in power plants, in the oil and gas industry, as well as in waste water treatment and sewage treatment plants.
These combustible gases are the first of three components required for an explosion. If oxygen is getting around, which is mostly the case due to the ambient air, only one spark is missing as an ignition source to cause an explosion.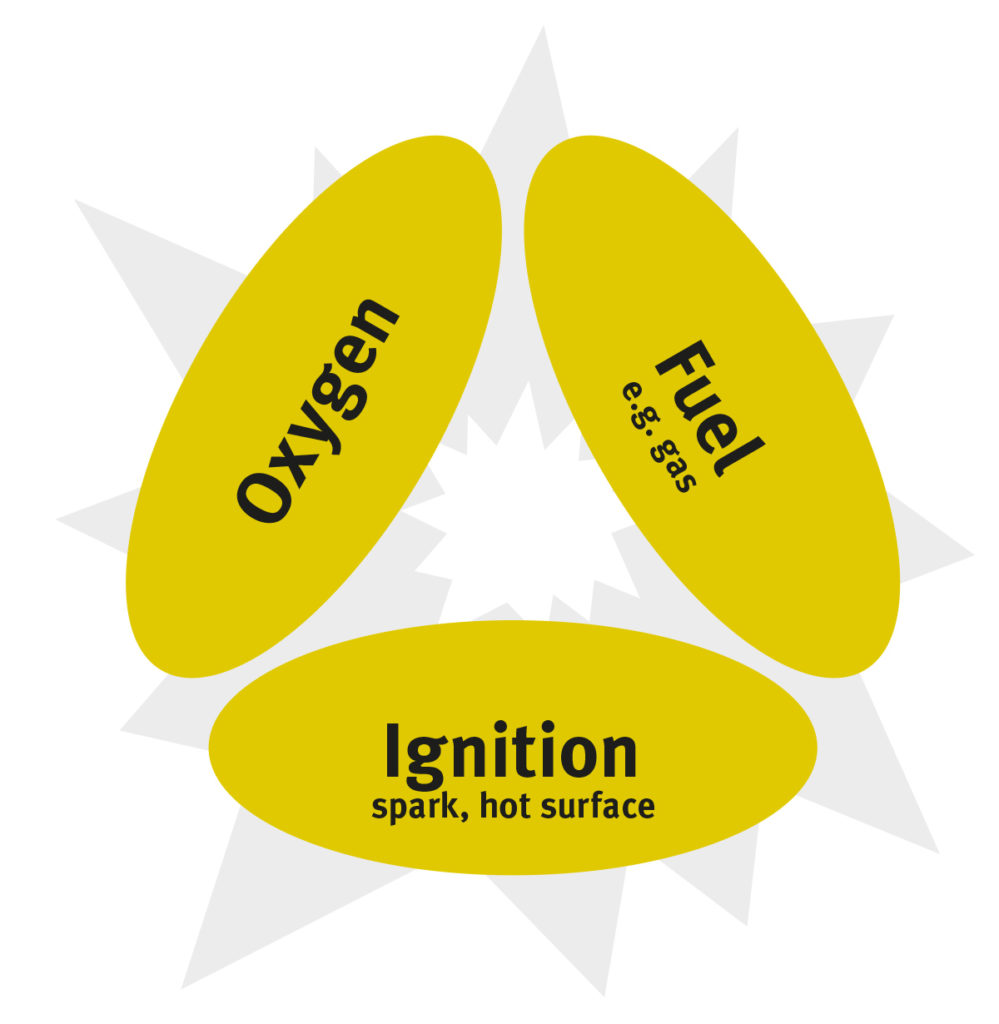 For an explosion to occur, three components must collide:
Oxygen
Fuel (e.g. a combustible gas)
Ignition source (spark, hot surface, …)
Increased security requirements for the IoT hardware
In the above-mentioned use cases there are a multitude of possible IIoT (Industrial Internet of Things) applications which can provide a real added value for the respective business model.
For example, you could use machines in paint factories with predictive maintenance applications more effectively, automatically log the level in fuel depots or monitor the combustible H2S gas produced in the drain.
The electronics required for the acquisition and transmission of the measurement data can be the missing third component for an explosion due to electrostatic discharge, short circuit or mechanical friction. The hardware is often operated with batteries or rechargeable batteries. These can be another source of ignition if they are loose, for example.
To ensure that the IoT hardware does not become an ignition source in an environment with oxygen and combustible gases, special safety measures regarding design and functionality must be observed during the development. These can be found in the directive 2014/34/EU (referred to briefly as ATEX).
If you are in a potentially explosive area, only devices with a corresponding certification may be used. This also applies to smartphones and tablets which employees bring into vicinity of the measuring point.
In addition to devices that are themselves in the potentially explosive environment, control and monitoring systems that are located outside but ensure the function of these devices are also affected by such certification.
Classification of explosive atmospheres / ATEX zones
ATEX is the abbreviation for ATmosphères Explosibles. In such an explosive atmosphere, a fuel is present in addition to oxygen. The flammable substances are divided into two categories:
G = gas, steam and mist
D = dust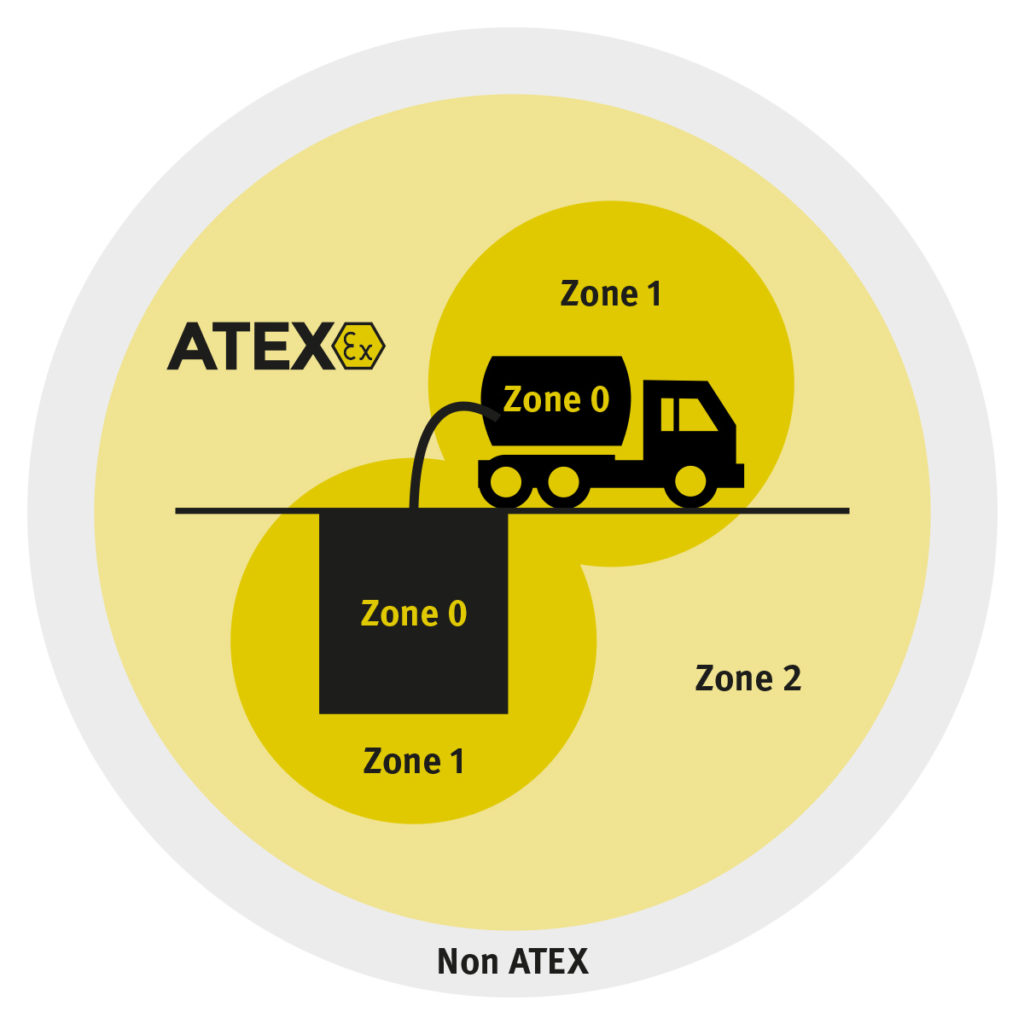 The ATEX directive distinguishes 4 zones:
Zone 0: During normal operation, oxygen and a combustible gas are present frequently and for long periods of time. "Frequently" means that this dangerous mixture is present for more than 50% of the operating time. "Long" means more than 1000 hours per year.
Zone 1: The mixture of oxygen and combustible gas occasionally prevails during normal operation. The term "occasionally" refers to less than 50% of the operating time and a total duration of between 10 and 1000 hours per year.
Zone 2: A mixture of oxygen and combustible gas does not occur during normal operation or, if it does occur, only for a short time (less than 10 hours per year).
Non ATEX: The environment is not explosive and the products used do not require a certification.
IoT devices for ATEX Zone 1
With the myDatalogEx, Microtronics offers an all-round device for data recording in ATEX Zone 1. myDatalogEx records signals from industrial sensors. When selecting the sensors, you must ensure that they are also certified for the ATEX Zone 1. The recorded data is processed and sent via mobile radio to a central web platform.
With the BLE Gateway you collect data from BLE sensors in the ATEX Zone 1 and transmit it in one batch to the web platform. It is also important to ensure that the BLE sensors are certified for the ATEX Zone 1.
Applications already used in the ATEX zone, for example, H2S or level measurement, but almost any other application can also be implemented with the ATEX-certified system from Microtronics.
The myDatalogH2S is used to measure combustible H2S gas. Like petrol or diesel, H2S belongs to temperature class T3. The myDatalogH2S transmits the data via Bluetooth (BLE) to a smartphone in range with the installed GasBuster app or via 3G to the IoT platform. If you want to query the data with your mobile phone via BLE, make sure that it is also approved for the ATEX zone in which you are located. The range of Bluetooth is up to 15 meters. ATEX zones must be clearly marked with appropriate signs at the measuring point.
For level measurement in the ATEX area, use the myDatalogGauge. The application consists of a BLE Gateway and up to two ATEX certified BLE Gauge pressure sensors for level measurement. The pressure sensors communicate with the BLE Gateway via Bluetooth. The BLE Gateway then transmits the data via 3G to the central, web-based IoT platform.
Your application in the ATEX Zone
You want to record, process and transmit data in the ATEX zone?
Contact the Microtronics team, we will be happy to advice you and take care of your safe Industrial IoT application in potentially explosive areas.