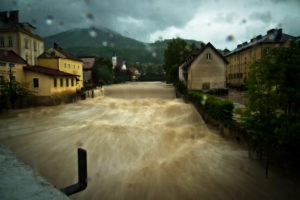 A citizen's service that visualises regional flood data, gives the fire brigade additional lead time and informs citizens via SMS in case of emergency: that's wasserstand.info
The website wasserstand.info displays water levels of Austrian rivers located in the state of Lower Austria. So citizens an monitor the water levels proactively via the website and take preventive measures. Communities can additionally offer the so called citizen's service that enables early flood warnings. That means that citizens can register for free with their mobile number for the area they live in and get a SMS as soon as the rivers are showing critical water levels (currently possible for the following Lower Austrian communities: Matzleinsdorf-Zelking-Mannersdorf, Zinsenhof, St. Leonhard-Ruprechtshofen, Diesendorf, Sandeben-St. Haus, Randegg, Gresten).
The fire brigade decides at which water level an alarm should be triggered and is the first to be informed. The early alarms help to react resource-efficiently even before an official alarm is triggered. After the first alarm the fire brigade analyses the situation, takes preventive measures and decides whether an alerting of the citizens is necessary or not. In case of emergency all registered citizens get informed via SMS.
Watch this video to learn more about the citizen's service
The citizen's service was developed by Microtronics in 2008 and can be used for every flood-prone river – practically all around the world. On wasserstand.info the flood data is displayed in real time. Already existing flood meters as well as other meters with interesting regional data like weather, water quality, ozone levels or pollen and radiation burden can also be integrated into the system.
The level measuring point that measures the current water level is installed aby the partner company Inaut Automation. The measuring points consist of a radar sensor (measuring range up to 15m), a solar panel (extremely robust due to armoured glazing), the integrated transmitter and a bridge mounting. Inaut Automation also cares for the system's maintenance and supports clients with the installation and integration on site. Safety issues are reasoned out and the system is installed consequently. Harald Hömstreit from Inaut Automation is a fireman himself and describes the installation as follows: "The citizen's service can be installed internationally in all approachable areas. To put it in a nutshell: everywhere where a mobile phone functions, also the citizen's service works."
Learn more about the citizen's service here