Dark clouds are gathering. Wind comes up and leaves swirl through the air. The first, timid raindrops turn into torrential rain. Rivers swell and the ground can no longer absorb the sheer volume of water within a few hours. Tiny centimetre-high rivulets become raging rivers. Roads are no longer passable and cellars are under water.
Such regional heavy rainfall events have been increasing in recent years. A few weeks ago, the Melktal was the scene of one such event with long-lasting rainfall. 45 members of the Ruprechtshofen Volunteer Fire Brigade and numerous helpers were on duty for two days at about 20 locations.
IoT as a helper in civil protection
The Internet of Things supports the emergency services and makes their work easier. With the flood early warning system wasserstand.info, neuralgic points along the Melk river are measured automatically. The water level is sent to the web platform via mobile radio. The emergency services are thus supported in assessing the situation. More effective and faster decisions are possible due to the water level values and their development.
On the website wasserstand.info the water levels are not only visible for the emergency services but also for the citizens. The zones around a measuring point are also set to a colour-coded warning or alarm status if a defined threshold value is exceeded.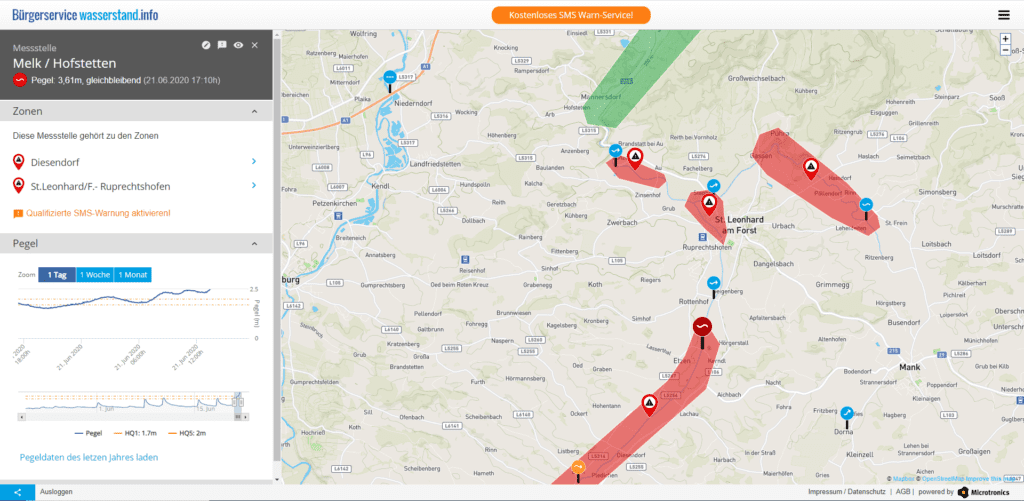 Communication is the order of the day in a disaster scenario. Therefore, citizens can register for the SMS warning service free of charge. With a click on a button, the emergency services inform all registered citizens via SMS.

Microtronics supports with technology and manpower
As a company based in Ruprechtshofen, our social responsibility for the region is important to us at Microtronics. Thus, Microtronics supports the emergency services not only with innovative, reliable IoT technology. Microtronics software engineer and member of the volunteer fire brigade Jakob Steiner was one of the 45 firefighters who diligently helped to keep the disaster as small as possible. This important commitment of its employee supports Microtronics and Jakob was given 1 ½ days of paid off duty.
Human and technology in harmony
The flood operation in the Melktal shows once again how people use technology to carry out their tasks more efficiently and effectively. The online system wasserstand.info not only gives the emergency services a better overview of the current situation and its development. Citizens also use it to inform themselves independently and stay up to date. The additional option of the SMS warning services supports emergency services in quickly passing on information to citizens.
Flood operation report the Ruprechtshofen voluntary fire brigade (only available in German. Check the astounding pictures)
Overview of water levels on wassertand.info and free registration for the SMS warning service (currently only available in German)